 Print / Website / Branding
Case Study
Galen Glen Case Study
As their wine began drawing international acclaim, Sarah and Galen Troxell knew they needed to update the look of their brand. We started by fully redesigning their wine labels, and then designed a landing page and t-shirts to match!
When Sarah and Galen Troxell came to us looking to reinvent the look and feel of their winery, Galen Glen, we were all in. Galen Glen is located in the rolling hills of Andreas, Pennsylvania and known for their internationally award-winning wine, especially their Grüner Veltliner and Fossil Riesling.
What we wanted to incorporate into their design was Galen Glen's backstory. Galen Troxell is an engineer turned vine grower. Sarah Troxell is a chemist turned winemaker. We created a look that matched.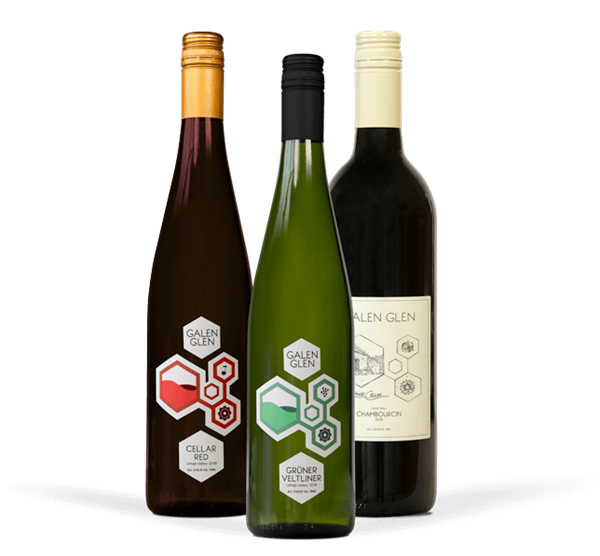 Hover to see Previous Labels

"3Seed took our winery's label from quietly satisfactory to eye-catching masterpiece that demands attention on the shelf and cleverly tells our story."
From there, we set them up with a fun landing page to educate visitors about Galen Glen's Grüner Veltliner, which loosely translates to green wine.
We wanted a look and feel that matched their new branding, so we opted for a simple landing page that incorporated the new label iconography and fun, punchy copy about GV.
It also showcased their exposure in the media and places to purchase your own bottle. This landed us with the opportunity to create banners for the tasting room and t-shirts for all of our "grüvy" GV fans, and a media kit to send out to influential people in the wine world.