3Seed Announced Retirement of a Key Part of Their Brand
Allentown, PA— No, 3Seed hasn't gone bananas, but, gone are the bananas from 3Seed's latest marketing campaign to announce the retirement of fruit & veggies from their business cards.
3Seed Marketing, the Schnecksville based marketing, design, and interactive company, began a creative week-long campaign leading people to believe a key partner was passing the baton.
What began last Friday as a vague teaser that a big announcement was imminent, stretched over a week of creative social media content including final group photos, retirement cakes, and a state of the union address from one of their three managing partners, was really a ploy to get people curious about the big news.
Today, it was announced in yet another creative twist, that 3Seed Marketing will be retiring their iconic fruit and veggie look from their business cards, making way for a new creative expressive of the company's brand. The new look features bold colors, unique printing techniques, and highlights the standalone power of the 3Seed Marketing mascot, their big, bold "3".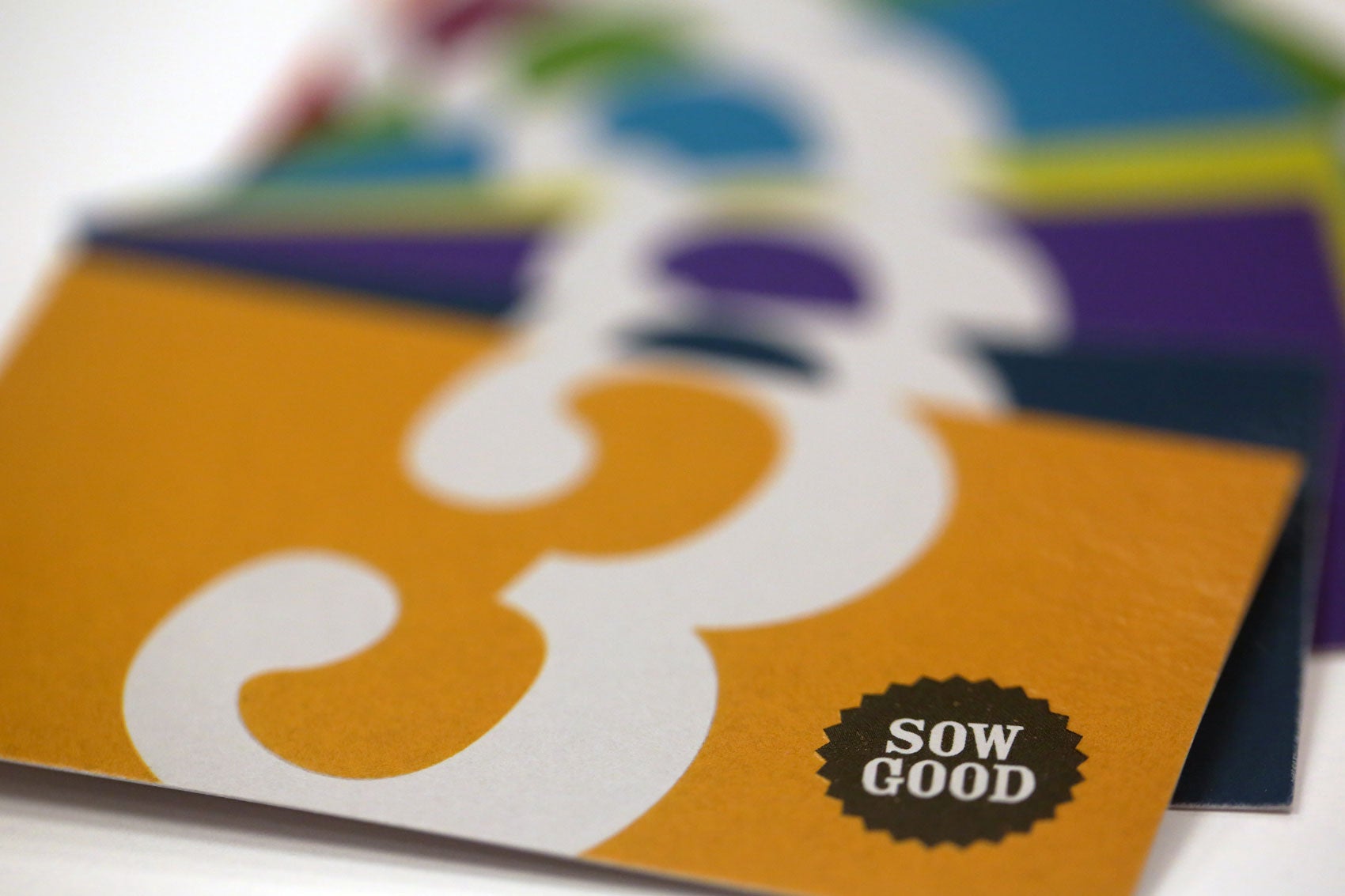 "We decided to retire the fruits and veggies from our business card because we wanted a cleaner, fresher look," commented Julie Moyer, one member of the managing partner trifecta of 3Seed, and the creative director behind the new look. "Our old cards were an awesome ice-breaker and conversation piece when we first started 3Seed. We thought they helped make us more memorable and our clients always asked about them. It was a good way segue into our brand story."
Julie, and her partners Andrea Guarino and John Mulder, found that as their company grew, they relied less on this conversation piece. As their portfolio of work and clients also grew, their portfolio spoke for itself.
"I still love and believe in a bold, memorable card, but now we do it through the use of colors, spot UV, and our 3," Julie added. "We are in our tenth year of business and we felt this would be a great time to change. There's a fine line between changing too much too often and keeping things current. We feel that this new look still evokes our identity and our confidence. We've been strategic about how we could transition the 3 logo into a standalone brand identifier and it feels great to finally be in that place."
For more information about their sustainable marketing process and strategy, and to learn more about their services, contact Andrea Luhman Guarino at luhman@3seedmarketing.com .